Future I-160 locates remains of war material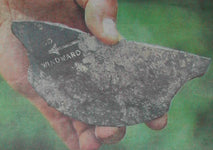 On a field in the UK different objects like ammunition, crockery, remains of fighter planes and even old documents has been found with the geophysical detector Future I-160. A group of civilians, led by Malcolm Weale and aviation enthusiast Dennis Morris have unearthed substantial finds in a farm field located at the end of a wartime runway. Under comprehensive supervision of historians the valuable findings has been excavated and filmed.
The discovery included remains of a Mosquito aircraft and has been located in a farm field near to a Norfolk air base. The Mosquito was nicknamed the 'wooden wonder' as metal was in short supply and the majority was made of wood.
The remains included the main spar, undercarriage legs and engine parts along with other objects like crockery, glass bottles, footwear and documents. One of the most valuable and interesting items was a well preserved china plate from AJ Wilkinson LTD.
---
Get Rewarded for Your Treasure Finds
You have also made discoveries and detected amazing artifacts and would like to share them (anonymously)? We look forward to reading and publishing your success stories!

One of our customers found late medieval artifacts in North Iran with the 3D ground scanner Future I-160 at a ...

A treasure hunter successfully located ancient weapons: swords, knifes and spearheads have been found in a depth of 2.80 meters.

Report from the Dutch 'Coinhunter Magazine' about a sensational discovery of a bunker system from World War I.