Ancient bronze weapons from the Persian Empire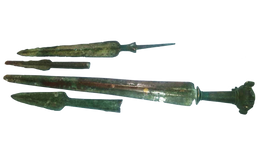 By using the 3D ground scanner and metal detector eXp 4500 one of our customers and treasure hunters successfully located these ancient weapons. The swords, knifes and spearheads have been found in a depth of 2.80 meters.
The weapons are made of bronze and has been discovered in the area of the former Persian Empire, one of the most powerful empires in the past.
Many ancient artifacts and treasures are still waiting to be found underground.
---
Get Rewarded for Your Treasure Finds
You have also made discoveries and detected amazing artifacts and would like to share them (anonymously)? We look forward to reading and publishing your success stories!