Precious bridle detected with Rover Deluxe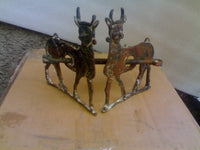 This beautiful treasure target shows an ancient bridle which was located by an OKM customer using the 3D metal detector Rover Deluxe. This precious target has been located near to Kermanshah, a western city of Iran. The target is of high value, its estimated age is more than 2600 years. With this precious find, the Rover Deluxe is worth every single penny.
---
Get Rewarded for Your Treasure Finds
You have also made discoveries and detected amazing artifacts and would like to share them (anonymously)? We look forward to reading and publishing your success stories!