Golden plate detected in Iran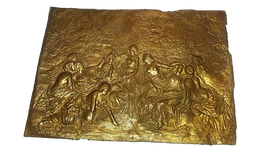 Beneath historic foundations of an old church in north west of Iran a wonderful treasure has been detected with OKM's long range gold detector Bionic X4. The treasure hunters located a beautiful golden plate in a depth of 1.60 meters close to the city of Orumieh. The golden plate is showing an image with a group of female persons.
---
Get Rewarded for Your Treasure Finds
You have also made discoveries and detected amazing artifacts and would like to share them (anonymously)? We look forward to reading and publishing your success stories!