Iranian treasure hunter finds bronze artifacts with 3D metal detector eXp 4000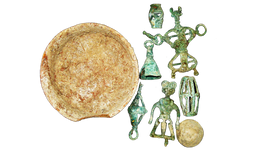 A treasure hunter from Iran sucessfully located an ancient grave with his 3D metal detector eXp 4000 from OKM. Inside the grave he discovered several bronze artifacts like figurines and ancient bells. The treasure hunter processed a measurement in operating mode 'Ground Scan' on clay underground and located the treasure find in an approximate depth of 242 cm.
---
Get Rewarded for Your Treasure Finds
You have also made discoveries and detected amazing artifacts and would like to share them (anonymously)? We look forward to reading and publishing your success stories!