Treasure Coast Metal Detectors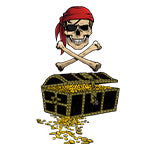 1032 NE Jensen Beach Blvd
Jensen Beach FL 34957
US
Treasure Coast Metal Detectors is your go-to partner for professional treasure hunting on the East Coast of America. The location is situated at a historically significant site, making it ideal for treasure hunters.
Dive into the world of treasure hunting with us and learn more about Treasure Coast Gold Metal Detectors and the fascinating history surrounding its location.
The Story of the 1715 Sinking of the Silver Fleet off the Coast of Florida
To better understand the significance of Treasure Coast Gold Metal Detectors, let's take a look at the story of the 1715 sinking of the Silver Fleet off the coast of Florida. This fleet, consisting of Spanish ships, carried a vast amount of silver and other valuable treasures. Unfortunately, it was caught in a fierce storm and sank, resulting in the loss of the majority of its cargo.
This event has captured the imagination of treasure hunters worldwide and remains a captivating chapter in history.
A Distributor with a Passion for Treasure Hunting
Treasure Coast Gold Metal Detectors is not just an ordinary distributor of metal detectors. The founder and owner himself is an avid treasure hunter with a passion for discovering lost treasures. With his extensive knowledge and experience, he has made it his mission to offer high-quality metal detectors that help treasure hunters embark on their own adventures.
Supporting Soldiers with PTSD
What truly sets Treasure Coast Gold Metal Detectors apart is their exceptional social engagement. The founder quickly recognized that treasure hunting is not only an exciting leisure activity but can also have therapeutic benefits. As a result, he actively supports soldiers with post-traumatic stress disorder (PTSD). He provides free treasure hunting workshops to give these soldiers an opportunity to relax, distract their minds and improve their skills.
This initiative has already helped many soldiers reduce their PTSD symptoms and improve their lives.
Customers as Part of the Family
Treasure Coast Gold Metal Detectors sees its customers not just as buyers but as part of the family. The entire team is always ready to share their extensive knowledge and experience to ensure that customers have the best possible experience. They offer not only a wide range of metal detectors but also accessories, training, and support for treasure hunting. At Treasure Coast Gold Metal Detectors, it's not just about selling products; it's about creating a community of treasure hunters who share their passion and learn from one another.
Treasure Coast Gold Metal Detectors is a distributor that goes far beyond the sale of metal detectors. With their passion for treasure hunting and extraordinary social engagement, they are making a difference in the lives of soldiers with PTSD and creating a community of treasure hunters.