La Boutique du Fouilleur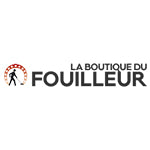 50B Faubourg de Paris
Pithiviers 45300
France
La Boutique du Fouilleur is the largest metal detector store in France with 240 sqm 'paradise' for treasure hunters. Moreover, it is the most famous store: Prospectors and detectorists are often called "fouilleurs" in reference to the brand.
Le Fouilleur and his expert team have a very solid knowledge of prospecting, treasure hunting, gold panning and magnet fishing.
Largest showroom in France
Service in French, English and Spanish
Expertise shared in blogs, magazines and TV shows
Detector Training
Scan Analyses
Device Check + Repair
Search Services
The Flagship of Treasure Hunting in France
David, who founded the store in 2006, is an internationally recognized expert who has developped and created several metal detectors and is consultant for most of the major brands. He can regularly be seen in numerous TV reports. Moreover, the store publishes a magazine dedicated to treasure hunting in France and Belgium since 2005.
La Boutique du Fouilleur is the flagship of treasure hunting in France, reaching out and providing expertise via
shop with large showroom
onlinestore
blog
magazine
TV shows
rallyes and further events.
Distribution Network
In 2010, David has included OKM ground scanners and detectors in his product portfolio - with great excitement of the possibilities of
finding treasures in greater depths
detecting cavities and
getting immediate 3D scan images.
La Boutique du Fouilleur became official OKM partner in 2021.
10 Reasons to Buy at Le Fouilleur
Lowest prices in France (offering best-price guarantee)
Easy and secured payment without fees by card, Paypal or check
More than 800 detectors of the best brands in stock
Ultra fast delivery within 24 to 48h in France
Worldwide delivery - incl. support with tax exemption
Training DVD offered with each detector
Advice on purchase, adjustments, identification and cleaning of finds as well as after-sales services available 6 days a week by email, on social networks or by phone
Quality repair
Biggest events in France
Field tested detectors
Read more